Who's behind the campaign?
The Simple Change for Troubled Lives campaign has been initiated by Framework Housing Association – a specialist charity supporting homeless, vulnerable and excluded and excluded people in the East Midlands.
The actions proposed in the campaign are based on front line work with more than 11,000 people each year across Nottinghamshire, Derbyshire and Lincolnshire. Framework also leads the consortium delivering Opportunity Nottingham – the Big Lottery Fund's Fulfilling Lives programme in Nottingham to address the needs of people with multiple and complex needs in the city.
The campaign is led by Framework's Chief Executive Andrew Redfern.
Proposals based on what works
The Five Actions proposed arise directly from Framework's daily experience of working with people living troubled lives. Our experience suggests that tackling this problem requires more than a one-off or localised initiative: it demands all the five actions described here to be taken in a coordinated fashion by national and local government.
Download The Proposal
Find out about Opportunity Nottingham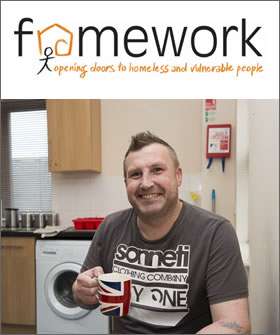 http://www.frameworkha.org/
Please help secure cross-party agreement to win a better deal for people living troubled lives:
SHOW YOUR SUPPORT
by leaving your email address at the top of this page. (To leave a comment or request more information Click Here)
Please show support by leaving your email address
Tweet us